Skip to Content
5 Tips to Floss More & Get More Out of Flossing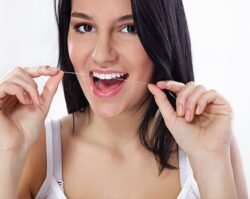 It's a rare person who follows our recommendation to floss every day, despite the fact it helps prevent cavities and gum disease. As with any hygiene task, making it a habit is the key. Follow our five tips to floss more – and then you're sure to get more out of flossing!
Five Flossing Tips
Try our five flossing tips:
Choose your floss carefully. There are many different kinds of dental floss on the market, even flavored ones. Experiment until you find one you like. Many folks find waxed floss is easier to use than unwaxed. You can even buy flossing tools like picks or pre-threaded flossers.
Keep floss where you can see it. Don't toss floss in a drawer or medicine cabinet. Put it in a high-profile spot, maybe next to your toothbrush.
Establish a flossing routine. It helps to have a flossing routine. Pick a time of day that fits well into your oral hygiene routine, maybe before brushing in the morning or right before bedtime.
Keep floss accessible. While it's good to have a routine, it can also be helpful to work in flossing when you have time. Stow extra floss in your car, your desk at work, and your purse or a pocket. If you're unexpectedly in a standstill in traffic or have a few minutes between meetings, take the opportunity to floss your teeth.
Start small. If you're having difficulty getting started because it seems too much like an ordeal, try flossing a single tooth. Then add a tooth or two every day until you're doing your entire mouth.
If you need help with your flossing technique or have any other questions about oral hygiene, ask us at your next dental exam. If you need to schedule an appointment at our Plano, TX office, call us today at 972-380-8105.