Skip to Content
4 Ways Invisalign Beats Traditional Braces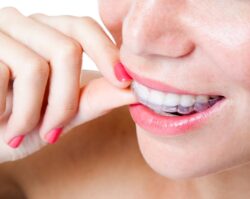 Welcome back to another blog from your friends at 1st In Smiles! Today, we would like to tell you about a wonderful orthodontic option that can help you achieve a straight, beautiful smile without the need for traditional braces: Invisalign clear aligners. Invisalign has numerous benefits and offers effective treatment for patients who want discreet, comfortable, quick care. Let's talk about what Invisalign is, how it works, and why it often beats out traditional braces as our patients' choice for orthodontic care.
What Is Invisalign?
Invisalign is made up of a series of clear plastic aligners that are changed out every two weeks. Gradually, this system shifts your teeth into place using gently pressure that is placed on them by the aligners. The aligners are made specifically for you using the latest technology. And that's it! Invisalign is easy to use and produces great results! Let's talk about the four main ways that Invisalign is often preferable to traditional braces:
Way #1: Invisalign Is More Comfortable Than Traditional Braces.
If you have ever known someone with traditional braces, you might have an idea of how uncomfortable they can be. It is not very fun to have metal brackets and wires in your mouth. They can often scrape, cut, or otherwise irritate the delicate tissues of your mouth and cause pain or discomfort. And undergoing a wire-tightening session is miserable! We are sure you have met someone who could not eat well for a few days after having their wires tightened!
Wearing Invisalign clear aligners is nothing like that. Because Invisalign aligners are made up of a clear plastic material, they do not cut or poke the inside of your mouth. And there are no wires to tighten! You will feel a mild pressure on your teeth when you exchange your aligners every two weeks, but is not anywhere near as uncomfortable as tightening wires on traditional braces.
Way #2: Invisalign Is Removable, Unlike Traditional Braces.
Did you know that Invisalign clear aligners can be removed from your mouth at any time during treatment? And you don't have to see the dentist to do it! You can simply take them out of your mouth to eat, drink, or brush and floss your teeth! They can also be removed on special occasions. They will never be in your way! Just pop them out of your mouth and slip them back in when you are ready.
But be warned — you must wear your aligners for at least 22 hours every day to produce the best results possible. Follow these instructions to get the most out of your aligners! If you think you may have a problem with wearing your aligners for this long every day, please talk to our team … you may want to consider an alternative orthodontic option.
Way #3: Invisalign Is Faster Than Traditional Braces.
Did you know that Invisalign aligners produce results faster than traditional braces? It is true! Traditional braces typically take about 2 or 3 years to complete treatment. With Invisalign, you can see results in just about 12 months! Yes! That's HALF the time (or less!) it takes with traditional braces! Of course, Invisalign is not for everyone and is ideal for a more limited range of cases when compared to traditional braces … but if you are a good candidate (mild to moderate misalignment, no severe or complicated issues), Invisalign can help you get the results you want FAST!
Way #4: Invisalign Is Invisible.
The best part about Invisalign? It's Invisible! Because it is made with a clear plastic material, the aligners are nearly invisible to the naked eye when they are placed in your mouth! That means that your peers won't notice that you are undergoing orthodontic treatment. If you are a busy professional or hardworking student with an image to maintain, this could be a great option for you. Invisalign is wonderful for getting the results you need discreetly.
Schedule Your Consultation
Are you interested in Invisalign? Think it could be a great option for you? Please schedule a consultation with our team to find out. We will examine your situation and help you determine whether or not Invisalign is the best option to solve your orthodontic problems. You can give us a call at 972-380-8105 or use our online form to request an appointment. We would be delighted to help you get started on your way to a straighter, more beautiful smile!