Skip to Content
Subtle Treatments for Cavities in Plano, Texas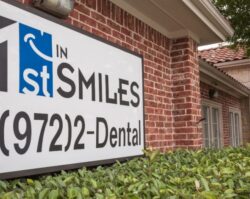 Welcome to our blog! 1st In Smiles is your source for state-of-the-art, pain-free dental care in the Plano, TX area. Thanks for stopping by our virtual home. What's on your mind today?
Are you…
…concerned about your oral health?
…in need of restorative dental care?
…looking for a dentist you can trust to keep up with your needs?
Then look no further! Around here, we make it our mission to help you keep your mouth clean and your smile looking great.
Hopefully you already know that scheduling appointments with us every 3-6 months for professional teeth cleanings and thorough dental exams will go a long way towards keeping your mouth healthy and free of gum disease and tooth decay.
That said, sometimes things go awry in spite of your best efforts. If a cavity should ever rear its ugly head, it is always better to be able to catch that decay in its early stages, so that your health can be restored quickly and painlessly.
Treating Cavities in Plano, Texas
Here's the deal: as decay begins to attack your tooth, a small hole will develop. This is the inauspicious start of a cavity. Will you be able to tell with your untrained eye? Perhaps, but not in all cases. However, you may begin to notice bad breath and an increased sensitivity to hot and cold. That kind of stuff will be hard to miss.
Lucky for you, your cavity can be easily repaired at this juncture, if it is detected by one of our oral health care professionals during your checkup.
Keep in mind, though, if treatment is not sought early enough, you might be confronted with the need for a root canal (which isn't as bad as we have been conditioned to think). Worse than that, you might even require an extraction followed by an artificial tooth replacement surgery (dental implants).
The takeaway is that things will always go better for you when you deal with dental problems sooner rather than later. And that's why we are here.
These Days Fillings Are Better Than Ever
For as long as we can remember, dental fillings have been employed to protect teeth that have been damaged due to decay. Even today, this is still the best approach. Allowing us to address your decay with fillings can help prevent the situation from evolving into a bigger and more costly problem.
.
If you've been around as long as we have, you might remember the ugly grey (and anything but subtle) metallic fillings that dentists used to use. Come on, you know, the ones that also contain mercury. If you've ever had one, you'll be reminded every time you open your mouth! These are like the scarlet letters of dentistry.
As your partner in oral health, we knew that that we could do better than that for you, which is why, in our Plano office, we are now able to offer you a safe, effective, natural-looking alternative to conventional amalgam fillings. You'll be pleased to know that we now utilize composite dental fillings for restoring your smile!
Mercury-Free for Me
That all sounds great, right? But you are probably still wondering what composite dental fillings involve. Well, the first thing you should know is that composite is actually made from a mix of plastics and glass. Don't worry, it is a very durable material. The good news is that these fillings can also be matched to the natural color of your teeth.
Just to reiterate: once a composite filling is placed, it is equally effective as an amalgam filling, lasts every bit as long, and will not negatively impact your appearance like old-school metal fillings would.
It couldn't get much better than that!
We Make It Easy to Restore Your Smile
Even if you have been away for while, we promise to go easy on you and spare you the lectures. There's no need to add insult to injury. In our Plano, TX dental practice, you can bet your bottom dollar that we'll make treating cavities a quick and comfortable experience.
Take Back Your Smile Today!
We hope that you will be inspired to take the next step. Don't put off your restorative dentistry treatment any longer.
Contact us to schedule your appointment today!