Skip to Content
Start off School Year Right With Dental Exams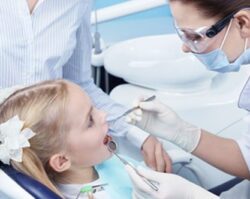 Now that the school year has started, your children will spend at least some of their time studying for exams. And they'll soon be busy with sports, clubs, and other activities. Before their schedules start to fill, bring them to our Plano, TX office for their dental exams.
By scheduling them now, you won't have to worry again about checkups with Dr. Rick Barfield until after the first of the year. You can also discuss preventive treatments that can hopefully help keep them cavity-free for the year, like applications of fluoride or dental sealants.
Dr. Barfield will check the development of their teeth to ensure all is well. If he notices alignment issues, he may recommend treatment with Invisalign, a system that straightens teeth with a series of clear plastic aligners. If your teenager is getting wisdom teeth, he'll closely monitor them to make sure they are coming in properly and not crowding other teeth.
To schedule dental exams for your family members, call 1st in Smiles at 972-380-8105.
There's No Place for Anxiety at Dental Exams
Your kids will be thrilled to know they never need to study for dental exams! However, some advance preparation on your part will help ensure they go well.
Perhaps the most important thing you can do is to overcome any dental anxiety you may have. If you haven't addressed it yet because you've just learned to "live with it," do so for the sake of your children's dental health. You want them to enjoy positive relationships with the dentist – and that begins with you.
It's important to watch your language. For example, don't say getting a filling will "only hurt a little." If it's hard for you to conceal your own anxiety, consider having your spouse, another family member, or a friend bring your children to our office.
If you're bringing multiple children in for dental exams, have the child who typically does well at the dentist go in first. The others will see there's nothing to fear!
Tips to Help Your Kids Ace Dental Exams
Here are some other tips for your children's dental exams:
Pick a time that suits your child. Some kids are "morning people." Others are definitely not! Schedule your child's exam at a time when they are normally well rested and in a good mood. That's easy to do at our office, with our extended hours. We open at 7 a.m. six days a week. And we're open until 6 p.m. three evenings a week.
Make a note of questions. If you have questions or concerns about your child's teeth, make a note of them beforehand so you won't forget to ask us.
Bring paperwork. Bring your insurance card, your child's Social Security card, or any other documents you may need with you. If you're a new patient, you can download and fill out new patient forms ahead of time.
Book your next appointments. Go ahead and schedule your next appointments for a date roughly six months in the future. Make a note of it on your smartphone or wherever you keep reminders so you won't forget.
Take our cards with you. Take some of our cards with you so you can share our contact information with your children's school, their after-school programs, and other places that might need to contact us in a dental emergency.
Make sure your kids practice good oral hygiene between exams. Brushing and flossing your teeth every day will keep their teeth healthy.
If you're ready to schedule your children's dental exams, call 1st in Smiles at 972-380-8105.