Skip to Content
October Is National Dental Hygiene Month [Infographic]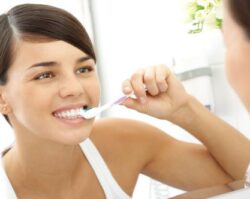 October is National Dental Hygiene Month. 1st In Smiles, your friendly Plano, TX dental office, wants to share four dental hygiene tips to keep your teeth healthy.
Brush twice a day for 2 minutes, spending 30 seconds brushing each quadrant of your mouth. If you have trouble keeping time, use a timer or a toothbrush with a timer built in.
Floss at least once a day. This is the step that many people skip, but it can give you long-lasting health benefits. Flossing removes food from between your teeth to prevent cavities and gum disease.
Rinse with mouthwash. Rinsing with mouthwash can get at plaque and bacteria brushing and flossing can't.
Visit us twice a year for your regular dental exams and dental cleanings. If you have a dental emergency between appointments or other oral health issues, do not hesitate to call us at 972-380-8105.