Skip to Content
Let Go of Your Fear With Dental Sedation in Plano, TX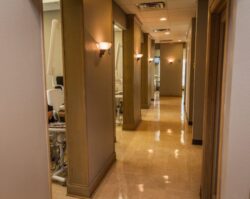 Welcome to our oral health blog! If you are looking for a way to dispel your dental anxiety and get the care you need to keep your mouth clean and your smile looking great, then you came to the right place.
At 1st In Smiles, we take a more gentle approach to dentistry than some of the other dental offices in the Plano, Texas area. Our only goal is to optimize your health, and keep you feeling good about your smile, all through life. You should know in advance that won't lecture you about staying away too long, or letting things go further than they should have.
But, just so you understand: staying away from the dental chair may postpone your confrontation with the reality of the situation in your mouth, but whatever issues are present will only get more painful and costly to treat as time goes on.
It is always a good idea to come in often for professional teeth cleanings that can keep tartar and plaque from causing problems like cavities, periodontal disease, etc.
And our in-depth dental exams will give you a heads up when there are serious issues unfolding. We can really tell you quite a bit from these checkups and we can even detect the presence of cancer while it is still early enough to do something about it.
Still, we understand that dental anxiety is real, and it can be difficult to overcome.
1st in Smiles Makes It Easy to Get Dental Care
Maybe you had a horrible experience with a childhood dentist or a painful run-in with a dental drill. We know that can be difficult to let go of. That's why, at 1st In Smiles, we try our best to provide an inviting atmosphere for all of our guests. You'll find that we pay close attention to what you are telling us. And, most importantly, we are happy to offer sedation dentistry as a way to make you feel more relaxed and less anxious about your dental procedure.
Nitrous Oxide Will Loosen You Up
This is our basic and most universal sedation dentistry option. Nitrous Oxide (aka "Laughing Gas") is delivered to you through a comfortable mask that fits over your nose. It is an effective solution for patients of any age who have a milder level of anxiety.
During your nitrous oxide session, you will remain fully awake, though completely relaxed, and once it is over, you can get right back to whatever you need to do.
Around here, nitrous oxide has been great for most patients. Because 1st In Smiles is committed to providing you with a pleasant experience, we offer free nitrous oxide during your, or your child's, treatment.
Oral Sedation Kicks It up a Notch
If laughing gas isn't the answer for you, we have other tricks up our sleeve. Oral sedation takes sedation dentistry to the next level for those that need it. This method comes in the form of a pill and is used to treat more intense feelings of anxiety.
In the event that this is a more reasonable option for you, we will give you a prescription to fill prior to your appointment.
Much like laughing gas, the oral sedation method will allow you to remain awake during your time here, though you may not remember any of dental procedures you experienced.
Just remember that its effects do last a bit longer than those of nitrous oxide, which is why we insist that, for this level of sedation, you will want to get someone to drive you to and from our office.
IV Takes It Even Further
IV conscious sedation is yet another safe sedation technique that allows for the deepest level of sedation while giving us the ability to control the levels more easily than a pill. Even though you'll be awake the whole time, you won't remember any of the procedure and will feel as though you're sleeping.
Let Us Put Your Fears to Rest!
Contact our Plano, TX dentist's office today to learn more about sedation dentistry and get started down the good road once again! We promise to go easy on you!