Skip to Content
Invisalign Is Your Secret to Achieving a Perfectly Straight Smile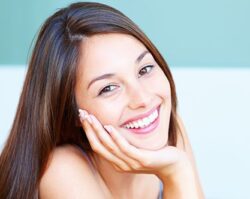 It's not very often that the solution seems worse than the problem. That's the gist of what we've heard from patients who think traditional metal braces are their only option for straightening their teeth. Some people, especially adults, would almost rather live with their crooked teeth than have to put up with uncomfortable, unsightly wires and brackets for up to two years.
Thankfully, the field of dentistry is always changing for the better, and Dr. Barfield and our team at 1st In Smiles are staying ahead of the curve. At our Plano, TX dental office, you can now achieve your perfectly straight, photo-ready smile with the help of Invisalign® clear braces!
Do you cover your mouth while laughing? Have you mastered the "closed-lipped smile"? Are you afraid you've missed out on job opportunities, promotions, or even a perfect date because of your crooked teeth? You don't have to be self-conscious any longer thanks to Invisalign® clear braces from Dr. Barfield.
The Invisalign® treatment system is quite simple. Following a private consultation with Dr. Barfield, we will:
Take X-rays, pictures, and impressions of your teeth to create a 3D digital model using Invisalign® technology so we can:

Provide a projection of your smile's progress as your teeth gradually shift into place through each stage of treatment.
Give you a sneak peek at what your newly straight smile will look like.

Send your digital model to Invisalign® to custom craft your series of clear plastic aligners.
Check in with you about every three weeks to evaluate your progress.
For adults, the entire process can take as little as 12 months. And, because you won't have to see an orthodontic specialist for frequent adjustments, you'll also save time and money during your Invisalign® treatment.
But fitting into your busy schedule isn't the only benefit of Invisalign®. Compared to traditional metal wire braces, Invisalign® boasts many advantages because the custom aligners are:
Discreet: Made from clear, almost invisible plastic, Invisalign® can be your little secret so no one has to know you're getting your teeth straightened.
Comfortable: In contrast to the sharp-edged brackets and bulky wires of metal braces, the Invisalign® system uses smooth, snug-fitting trays that won't irritate the inside of your mouth.
Removable: You can take your aligners out so you can brush and floss normally, eat what you love without worrying about food getting stuck in pesky wires, or even take them out for special occasions.
And, if perfectly straight teeth aren't the only thing on your perfect smile checklist, you can easily combine Invisalign® with other cosmetic or restorative dentistry options, including:
Teeth whitening so your newly straight teeth can be brighter and healthier-looking than ever.
Tooth-colored fillings to discreetly protect and restore the health of your teeth–no more metal fillings.
Teeth recontouring and gum reshaping to give every facet of your smile its perfect shape, down to the finest detail.
Gum disease treatment to remove stubborn plaque between your teeth and gums unreachable by brushing and flossing, so your gums can heal.
No matter your smile goals, Dr. Barfield can come up with a comprehensive makeover plan to suit your specific needs and desires.
Feeling good about your smile is invaluable, but that's not all you have to look forward to. In addition to getting your confident grin back, there are many health benefits of getting straight teeth with Invisalign®:
Gum health: Gums can often become inflamed and sensitive due to complications arising from gaps between teeth or overcrowding in your mouth.
Easy, better cleaning: Food particles frequently get stuck in hard-to-reach places because of traditional metal braces.
Improved oral function: Teeth that are crooked or misaligned can lead to other problems regarding oral health, like an improper bite, jaw pain, or uneven wear on tooth enamel.
Don't put up with painful, embarrassing metal braces. At 1st In Smiles, you have options when it comes to straightening your teeth. Why settle for anything less than the comfort, convenience, and improved appearance offered by clear braces?
Call our Plano, TX dental office at 972-380-8105 to ask one of our friendly team members any questions you might have about Invisalign® treatment systems. Or, if you're ready to book your private consultation with Dr. Barfield, you can schedule your appointment on the phone or by using our convenient online form. We can't wait to help you reach your smile goals!