Skip to Content
How to Prevent Tooth Decay This Halloween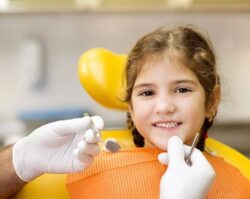 There are already plenty of scary things about Halloween: the haunted hayrides, the ghost stories, the winding corn mazes. Tooth decay does not have to be one of them.
With trick-or-treating right around the corner, know that the dental professionals at 1st In Smiles are dedicated to providing excellent preventative care in Plano, TX. And it's not too late to schedule an appointment! Take a look at some of the ways we can work together to prevent cavities, and give us a call at 972-380-8105 to schedule a cleaning and a fluoride treatment.
We're Your First Line of Defense Against Tooth Decay
According to the Centers for Disease Control, cavities are one of the most common chronic health problems among American children — even though they're preventable!
Your risk for tooth decay increases if sugar consumption increases, as it tends to during the Halloween season. Plaque-causing bacteria feed on sugar, and they love it when particles linger on teeth due to insufficient brushing and flossing. The bacteria release a weak acid that eats away at your teeth, causing decay and cavities, or holes in your teeth.
So, how can you prevent tooth decay, particularly when you know you'll be enjoying a lot of Halloween candy in the near future? Proper brushing and flossing are a great start, but you can really reduce your chances for cavities by visiting 1st In Smiles. Not only do we offer thorough cleanings to get rid of plaque, but we can also protect your teeth with various fluoride treatments and sealants.
Here's what we offer:
In-office foam fluoride treatment. Fluoride actually makes your teeth more resistant to the acids produced by plaque-causing bacteria and can reverse early signs of tooth decay. With foam treatments, the fluoride is placed into a mouthguard, which is inserted into your mouth for one to four minutes.
In-office fluoride varnish. We can paint a highly concentrated form of fluoride directly to your teeth.
Prescription-strength at-home fluoride treatment. There are a variety of fluorinated toothpastes and mouthwashes available over-the-counter, but the most powerful take-home fluoride treatments are available only by prescription. If you're particularly susceptible to tooth decay, we can prescribe you these convenient treatment options.
Dental sealants. These are thin, plastic coatings that we apply to the chewing surfaces of teeth. Plaque-causing bacteria can cling to the hard-to-clean grooves of your teeth, so sealants protect these vulnerable places from decay.
Both fluoride treatments and sealants are recommended for children between the ages of six and 16, since kids are especially prone to cavities. However, adults can also benefit from these treatments.
1st In Smiles offers care for the entire family, and this Halloween season is a great time to visit. Call us today at 972-380-8105 to schedule an appointment.
Scare Away Cavities at Home
Though partnering with Dr. Barfield and the other dental professionals at 1st In Smiles is a great way to protect your smile this Halloween, there are also healthy habits you can practice at home.
First, you can enjoy Halloween candy in moderation and practice good oral hygiene while you do it.
Before trick-or-treating, make sure you and your child discuss healthy candy consumption, including how much Halloween candy he or she is allowed to eat each day. Then, make sure that both you and your kids have a well-balanced meal before trick-or-treating begins. This will curb candy consumption after the festivities are over.
After everyone returns from their trick-or-treating adventures and are feasting on their sugary snacks, make sure they drink plenty of water. Encouraging your kids to swish the water around their mouths will also prevent sugary particles from sticking to teeth. And while it might be tempting to head straight to bed after an exciting night, don't forget to brush and floss!
In the days after Halloween, try using the household stash of Halloween candy as a reward for completing chores or other good behaviors. This will prevent indiscriminate snacking in the days to come.
Choose Teeth-Friendly Halloween Treats
You can also minimize the risk for dental mishaps by carefully choosing what candies your kids consume and what you're passing out in your own Halloween candy bowl.
Avoid sticky and gummy candies that can get lodged into the nooks and crannies of teeth. Because they're so hard to clean out of your teeth, caramels and gummies can leave teeth extra vulnerable to decay. Sour candies are also a no-go because their acidity can eat away at enamel, the strong outer layer of teeth that protect them from cavities.
Milk chocolate candies and snack-sized bags of pretzels are a better option, although the best Halloween treats are dark chocolate and sugar-free chewing gum. The American Dental Association has even given several brands of sugar-free gum its Seal of Acceptance.
Call Today to Protect Your Family's Teeth
If you want to make sure your family's teeth are in great shape not just this Halloween season but all year round, give the caring team at 1st In Smiles a call. In addition to offering general dentistry, Dr. Barfield offers cosmetic and restorative procedures. Plus, we help patients find solutions to sleep apnea, excessive snoring and pain from TMJ.
Give us a call today at 972-380-8105 or fill out our convenient online form to schedule an appointment.
And of course, happy Halloween from all of us here at 1st In Smiles!