Skip to Content
How Sedation Helped Claire Get the Care She Needed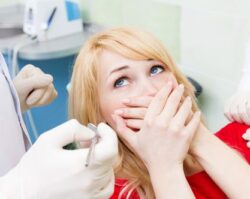 Welcome back to the ongoing dental blog of 1st In Smile. Here at our Plano, TX practice, we meet patients every day who have, until now, avoided dental care out of fear or anxiety. They maybe have avoided care to the point of needing some serious restorative work. This is a common situation that we deal with often — and we are able to help these patients get the care they need despite dental fear or anxiety!
Today, we would love to tell you about a patient of ours named Claire. If you are like Claire and have extreme dental anxiety but need care, please give us a call. We can help you have the healthy, beautiful smile you deserve, too!
Meet Claire
Claire came into our office about six months ago because she was in pain. She had not been to the dentist in many, many years. Claire was in her early fifties and was busy caring for a large family, including a lovely grandson. She did not have the time or desire to face her dental fears. Until, one winter evening, she was forced to.
The Consequences of Avoiding Dental Care
Claire had avoided trips to the dentist for nearly 30 years. When she was a young woman, she had a very bad experience at a dental office. They were not too concerned with her comfort and the whole experience of having a tooth pulled with very traumatic. Since then, Claire has stayed away from dentists because she was afraid of the pain!
Over the last thirty years, Claire had developed numerous instances of decay as well as some fairly extensive gum disease. While she did her best to keep up with her oral hygiene at home, she just could not keep her mouth as clean as a professional dental hygienist could have. By the time she was in enough pain to seek help, Claire's oral health was quite poor.
How She Sought Help
But once she realized that she needed professional help, Claire knew exactly what to do. Her friend had told her about a local dental office that pays very close attention to patient comfort. That office was 1st In Smiles! Claire trusted her friend and gave us a call. She told us that she was experiencing some dental pain (probably due to decay) and told us about her anxiety and her bad experience in the past. We assured her that we would take good care of her and we scheduled an appointment!
All About IV Sedation
We were able to get Claire the help she needed using IV sedation. IV sedation is our strongest level of sedation and is designed for very nervous or fearful patients like Claire. We were able to get rid of her gum disease and repair any areas of decay with the help of the sedation.
IV sedation creates a sleep-like state where the patient will not remember any of the procedure, but will still be able to respond to our team during treatment. Is is completely safe because it is administered by our specially trained team. It is also easily adjusted during treatment if you need more or less of the medication.
Enjoying Her Healthy New Smile
By seeking help and trusting our team and IV sedation to get the job done, Claire saved her smile from needing a major overhaul. Now, she enjoys her beautiful healthy smile and regular trips to our dental office. Yes, that's right! She actually enjoys them! We help her stay as comfortable as possible with the help of dental sedation and a variety of other comfort options.
Make an Appointment
If you are like Claire and are afraid of the dentist, let our team show you that dental experiences don't have to be stressful or scary! You too can avoid the pain and inconvenience associated with major restorative or even replacement work. Let our team help you get the dental sedation you need to stay healthy.
You can call our team at 972-380-8105 or send us a message via our online contact form. We look forward to helping you get safe, comfortable dental care!