Skip to Content
Hear About Hillary's Pain-Free Root Canal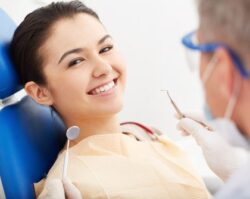 The prospect of a root canal often inspires dread. It shouldn't, though. With modern techniques and dental sedation, you can get a pain-free root canal at 1st in Smiles.
Don't believe us? Check out this video featuring Hillary, one of our patients who was thrilled with her painless procedure in our Plano, TX office. "You never feel like you are in pain when he is working with you," she says about Dr. Barfield's gentle touch. She appreciates that he will stop if you raise your hand to signal that you need a break.
If you have a toothache, you may need a root canal procedure. Call 1st in Smiles today at 972-380-8105. While Dr. Barfield's great chairside manner will put you at ease, you will also receive effective local anesthesia to numb your mouth prior to your treatment. If you're still nervous or worried about discomfort, we offer three soothing forms of sedation.