Skip to Content
Give Your Graduate the Gift of a Confident Smile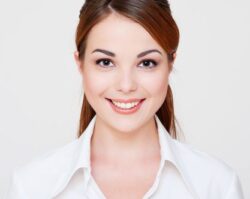 Your recent high school or college graduate would probably love to get a gift of cash. But why not give them something even more valuable, a gift that will benefit them for many years if not their whole life? We're talking about a confident smile.
If you've got a student attending college this fall, a confident smile will serve them well in both academic and social settings. For college graduates, a confident smile makes a great first impression on a prospective employer.
At 1st in Smiles, Dr. Rick Barfield can use cosmetic dentistry and/or restorative dentistry procedures to correct many common smile flaws and boost your graduate's confidence. He'll be happy to advise you on the treatments that will work best for your grad and can help them create a personalized smile enhancement plan. Schedule a consultation for your graduate by calling us today at 972-380-8105.
As a starting point, here is some information about some improvements that may interest your graduate.
A White Smile Is a Confident Smile
Your graduate will smile more confidently if their teeth look nice and bright. If they need a white smile in a hurry, for an upcoming event like a job interview or student orientation, they'll get the quickest results with a teeth whitening treatment in our office. It only takes about an hour to go several shades lighter.
If time is less of an issue, they may prefer the convenience of whitening at home with professional-strength gel and custom whitening trays made using impressions of their teeth. Either way, they'll get brighter results than with a drugstore product, because our whitening treatments are formulated with a higher concentration of bleaching ingredients.
A Straight Smile Is a Confident Smile
It will likely take about a year, or even less, for your graduate to get a straight smile with Invisalign. The average treatment time for Invisalign, which uses clear plastic aligners instead of metal braces to straighten teeth, is 12 months. That's months less than most people spend in braces.
They'll have a confident smile during treatment, because most people probably won't even notice the transparent aligners. There also won't be any worries about food getting caught in braces during a date or a business lunch. They can remove their aligners for meals, and also for oral hygiene. Invisalign consultations are free!
Veneers Will Give Your Grad a Confident Smile
If your graduate's teeth are only slightly crooked, they may be able to cover the misalignment with dental veneers. In fact, veneers can conceal nearly any smile flaw, including chips, stains, gaps, and worn-down teeth. At 1st in Smiles we use Lumineers, a type of ultra-thin veneer that likely won't require Dr. Barfield to remove any enamel from your grad's teeth. They may not even need any anesthesia! With proper care, veneers can last for decades.
Small Enhancements Make a Big Impact
Small enhancements may be enough to give your graduate a confident smile. Your graduate may be interested in:
Teeth Contouring – If your graduate feels self-conscious about teeth that are different lengths and sizes or have similar issues, Dr. Barfield can use a small sanding device to give their teeth a uniform size and shape.
Gum Reshaping – To correct the look of an overly "gummy" smile, he can remove a small amount of gum tissue to give them a more balanced look.
It's Hard to Have a Confident Smile With Missing Teeth
Nothing drains confidence from a smile like a missing tooth or teeth. For replacement teeth that look, feel and function like natural teeth, we recommend dental implants. If your graduate has lost a tooth, Dr. Barfield can replace it with a dental implant restored with a dental crown. For multiple missing teeth, he can use a bridge or even dentures. Implants require no special care and can last a lifetime.
Fix Your Graduate's Dental Damage Before They Leave Home
If your graduate has a cavity, it's a good idea to get it fixed while they are still living at home. We'll repair it with either a tooth-colored composite filling or a dental crown, depending on the degree of decay. Ignoring a cavity can lead to infection. This will require a root canal, which can be pretty scary for a graduate to face on their own. Worse, they could end up losing their tooth.
Don't Let Finances Stand in the Way of a Confident Smile
If you're worried about how you'll pay for your graduate's smile improvements, ask about our price matching policy. In addition, we offer numerous payment options. For example, we're happy to have you pay half the cost of your chosen treatment(s) upfront and then pay the remaining amount in three monthly installments. We're also registered as a CareCredit provider. Through CareCredit you may be able to receive 12-month, no-interest financing or other long-term, low-interest financing plans.
If you're ready to give your graduate the gift of a confident smile, call 972-380-8105 so we can work out the details.