Skip to Content
Don't Let Dental Anxiety Prevent You From a Healthy Smile [Video]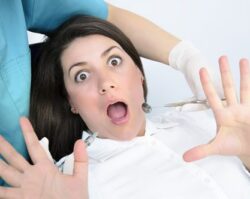 When Tom was a boy, he spent time at the dentist's office getting cavities filled. Needless to say, he doesn't look back on those days with fondness. As an adult, he experienced some lingering dental anxiety surrounding dental checkups and cleanings.
But Tom loves the lengths the caring staff at 1st In Smiles goes to make him and other patients feel comfortable.
"It's a place you want to go to and be taken care of," Tom said. "(They) have the latest in technology available to help you in that process, and (it's) also a place that you want to go back to. So both of those work together to make a great place because you want that continuity of care."
Watch this video to learn more about why Tom chooses to come to 1st In Smiles. Then, experience our comfortable, patient-centered care for yourself! Call us at 972-380-8105 to schedule an appointment.