Skip to Content
Do You Need Root Canal Therapy? (Infographic)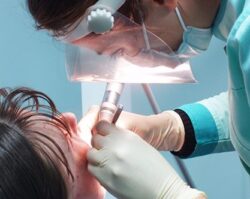 Tooth pain can be a sign you need root canal therapy – or any number of other dental procedures. It's best not to delay a root canal if you need one, as infection inside the soft center of your tooth can sometimes spread elsewhere, causing other health issues.
So how will you know if you need a root canal procedure? Call our Plano, TX dentist office right away if you're experiencing any of these symptoms. The earlier we can diagnose the need for a root canal, the better. Dr. Barfield will remove all the damaged pulp, then protect your tooth from further damage with a dental restoration like a crown.
Worried about pain? You needn't be. Most people find the procedure no worse than receiving a filling or crown. If you need dental sedation, you can choose from three types: inhaled sedation ("laughing gas"), an oral sedative, or intravenous (IV) sedation.
Call 1st in Smiles at 972-380-8105 for an appointment with Dr. Barfield. Don't delay if you suspect you may need root canal therapy!