Skip to Content
4 Ways to Makeover Your Smile This Spring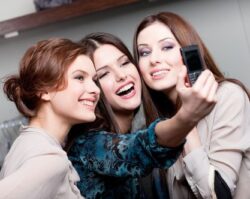 Take a look at your Instagram, Facebook, or Twitter profile pictures. Are you smiling widely for these photos, proud to show off your beautiful set of teeth? Or is your mouse tightly closed in these photos because you're embarrassed about your teeth?
No one should have to live with a smile that embarrasses them. After all, your teeth are one of the first thing someone notices about you. So why don't you make 2016 the year that you start loving your smile again?
At 1st In Smiles in Plano, TX, we're proud to offer a number of cosmetic dentistry procedures that can completely remake your smile. In today's post of our dental health blog, we're going to look at four exciting ways we can improve your smile with cosmetic dentistry. Let's get started!
1. Enjoy a Brand New Smile With Veneers
Celebrities have long trusted dental veneers to remake their smile. Dental veneers are a thin ceramic shell that's carefully placed over your natural teeth. Dental veneers are a wonderful option for covering blemishes in your smile. We can you dental veneers to erase the appearance of cracked, chipped, gapped, or deeply stained teeth.
In the past, dental veneers were a bit of an arduous process. First a significant amount of enamel had to be removed from your teeth to make room for the veneers. Then you had to endure several appointments before you could enjoy your new smile. Not anymore!
We're proud to offer Lumineers. Lumineers are thin but incredibly durable, so far less enamel needs to be removed from your natural teeth. Best of all, they generally only take one appointment to apply! That means you can show off a beautiful new smile in no time flat!
2. Whiten Your Teeth in Just One Hour
Sometimes the only thing you dislike about your smile is that it is stained or discolored. Even otherwise healthy teeth become less resistant to staining as you age. Suddenly that occasional glass of wine, cup of coffee, or cigarette is discoloring your smile!
Maybe you tried an over-the-counter teeth whitening product and were disappointed with the results. Or maybe the product caused sensitivity or irritation in your teeth and/or gums. If you really want a whiter smile, with far less discomfort, you need to trust the professionals!
At 1st In Smiles in Plano, TX, we offer professional teeth whitening as both an in-office treatment and as a take home kit. Our in-office Opalescence Boost professional teeth whitening treatment can whiten your teeth several shades in only an hour. Or choose our at-home Opalescence kits to whiten your teeth in the comfort of your own home.
3. Straighten Your Teeth Without Metal Braces
Orthodontic issues can have a devastating effect on your smile. Crooked, gapped, and/or misaligned teeth could make just about anybody embarrassed to show their teeth. But traditional orthodontic treatments, like metal braces, aren't much better. Who really wants to walk around with brace face?
Luckily, 1st In Smiles offers orthodontic treatment that's free of all the hassles of metal braces. Invisalign clear braces use a series of removable, plastic aligners to reposition your teeth. There's no invasive procedures needed to install or remove any metal brackets and wires!
Best of all, Invisalign is designed to be virtually invisible in your smile. Your clear Invisalign aligners are also removable, so you don't have to change any aspect of your diet. You simply remove the aligner when it's time to eat. Plus Invisalign works in about a year — half the time of traditional braces!
4. Gum Reshaping and Teeth Recontouring for a Flawless Smile
We also offer gum reshaping and teeth recontouring to perfect the small flaws in your smile. Teeth recontouring can be used to repair misshapen teeth using a minimally invasive sanding procedure. This can help make your teeth look more uniform.
Gum reshaping can be used if you're suffering from a "gummy smile." We use gum reshaping to ensure that a correct portion of tooth visible in your smile. We can also even out your gum line, so your teeth appear straighter and more uniform.
Make an Appointment
Are you interested in learning more about any of the cosmetic dentistry procedures described above? Do you believe your smile could use a makeover? Then take the first step towards having a smile you love! Contact 1st In Smiles in Plano, TX, at 972-380-8105 or by filling out our short online form.