Skip to Content
3 Tips for Preventing Tooth Decay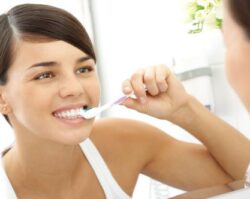 In a world of sugary drinks and processed foods, it might seem like tooth decay is just a part of life. But while cavities are common — 92 percent of adults have at least one — that doesn't mean that they're an inevitable part of your smile!
Preventing cavities doesn't have to be a chore, either. When you partner with the professionals at 1st In Smiles, we'll help you refine your at-home dental hygiene habits, keep a watchful eye out for dental complications, and address early signs of decay in a timely manner. Plus, you'll feel great after an in-office cleaning.
Read on for three ways you can reduce your risk of cavities! Then, if you're due for a visit to the dentist's office, call our Plano, TX practice at 972-380-8105 to schedule an appointment.
Tip #1: Commit to Regular Dental Checkups.
Brushing and flossing are important components of good dental hygiene. But without routine checkups and cleanings, those efforts aren't going to be as effective at preventing dental complications. Generally, it's a good idea to schedule a routine checkup and cleaning once every six months.
These visits allow us to look for early signs of tooth decay and gum disease so we can intervene quickly before more damage occurs. Our skilled hygienists also take the opportunity to remove tartar, which is hardened bacterial buildup, that contributes to cavities and can't be removed with regular brushing and flossing.
Tip #2: Brush and Floss at Home.
Of course, brushing and flossing are sort of the bread and butter of good dental hygiene. These at-home habits help clear your mouth of food debris and bacterial buildup that drive tooth decay and gum disease.
According to the American Dental Association, adults and children should brush twice a day for two minutes each time using a soft-bristled toothbrush. And don't forget to floss once a day as well!
When you come in for your dental checkup, we can assess your oral health and give you personalized tips for at-home cleaning. That way, your smile will stay in great shape for the next five months, until it's time for your next dental exam!
Tip #3: Enjoy Sugar in Moderation.
For people with a huge sweet tooth, this is the hardest part. But the truth is, what you eat affects your teeth — particularly if your diet is high in sugar.
Pay attention to how much sugar you consume throughout the day, but also how you consume it. If you're sipping a single sugary soft drink throughout the day, it can actually be just as bad if not worse for your teeth than drinking multiple soft drinks within a 1-hour span. That's because the repeated exposure to the beverage is a constant sugary assault on your teeth!
When you do consume sugar, be sure to drink water alongside it to help wash away sugary particles. Of course, brushing your teeth regularly also helps minimize damage.
Excellent Preventative Dental Care
If you're looking for a place in Plano, TX to call your dental home, stop by our office and experience our excellent preventative dental care. We love partnering with patients who want to take ownership of their oral health! Call us at 972-380-8105 or use our online form to request an appointment.