Skip to Content
Your Fear of the Dentist Can Be Overcome With Dental Sedation!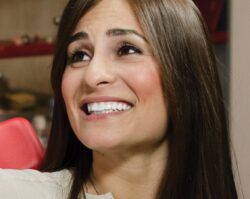 Are you nervous about going to see the dentist? Has it been awhile since your last checkup? Don't worry, our Plano, TX dentist's office has you covered. At 1st In Smiles, we strive to provide an inviting, lecture-free environment for each and every one of our guests. And we realize that everyone has their own special set of circumstances that has led them to this point. Unlike the situation at some of the other offices you may have experienced, our team pays close attention to your goals and concerns. Beyond that, if you are the least bit anxious, Dr. Barfield is always able to offer sedation dentistry services as a way to make you feel more relaxed during your time with us. As such, today, we wanted to talk about our three great dental sedation options. Keep reading, and then be sure to follow up and schedule your next appointment ASAP! We promise to go easy on you.
Nitrous Oxide
You may have heard about this already as this is our basic and most universal sedation dentistry option. Here's how it works: the Nitrous Oxide (aka "Laughing Gas") is delivered to you through a comfortable mask that fits over your nose. Dr. Barfield has found that it is an effective solution for patients of any age who have a milder level of anxiety. During your nitrous oxide session, you will remain fully awake, though completely relaxed, and once it is over, you can get right back to whatever you need to do. Because 1st In Smiles is committed to providing you with a pleasant experience, we offer free nitrous oxide during your, or your child's, treatment.
Oral Sedation
If N2O isn't the right solution for you, we have other things for you to consider. Oral sedation takes sedation dentistry to the next level for those that need it. This method comes in the form of a pill and is used to treat more intense feelings of anxiety.
In the event that this is a more reasonable option for you, we will give you a prescription to fill prior to your appointment. Our oral sedation method will also allow you to remain awake during your time here, though you may not remember any of dental procedures you experienced.
IV Sedation
IV conscious sedation is yet another safe sedation technique that allows for the deepest level of sedation while giving us the ability to control the levels more easily than a pill. Even though you'll be awake the whole time, you won't remember any of the procedure and will feel as though you're sleeping. This is perfect for complex procedures and for folks with deep levels of dental anxiety/fear of the dentist!
Learn More, Get Started!
Contact our Plano, TX dentist's office today to learn more about our dental sedation options and our comprehensive dental services! During your initial visit, we will create a personalized plan of action for you and your family. One way or another, Dr. Barfield will get you smiling big again!