Skip to Content
What to Expect During Your Child's First Dentist Visit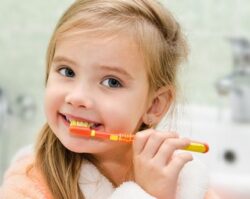 Your child's first visit to the dentist is an important milestone.
At 1st In Smiles in Plano, TX, we understand that children have different needs than adults do when it comes to dental care. Our caring team is willing to go the extra mile to make sure your little one's first visit is a pleasant one so that they'll enjoy coming back.
A lifetime of healthy teeth starts with this first visit! Give us a call at 972-380-8105 today to schedule your child's first appointment.
At What Age Should Your Child First See the Dentist?
The American Dental Association recommends taking your child to the dentist for the first time sometime after their first tooth arrives (usually around six months old) and no later than their first birthday.
Since children don't have all their teeth at this time, their first dentist appointments are generally fairly short. We'll check your child's gums and teeth for any signs of decay, injuries or infection. If your child is comfortable with it, we'll proceed with a quick cleaning.
If your child only has a couple teeth, it may be tempting to put off a visit to the dentist. But tooth decay can occur even if a child only has one tooth. But visiting 1st In Smiles early and regularly will help ensure your child's oral development is on track. Plus, our knowledgeable staff is trained to spot issues early so we can address them as soon as possible.
A "Happy Visit"
The first dental appointment sets a precedent for future visits. That's why at 1st In Smiles, we like to call a child's first appointment a "happy visit." While our goal is to provide the same care as in any other routine checkup — an exam and cleaning — our priority is to make the child feel comfortable.
We'll use child-friendly techniques to build trust with our staff members and eliminate fear. We're so dedicated to this first visit that we'll waive the cost of consultation so that you only pay for any treatments the child receives during the first visit.
If you want to make sure your child's first trip to the dentist is a great one, give 1st In Smiles a call at 972-380-8105 to make an appointment.
How to Prepare for the First Visit
Perhaps you're feeling some anxiety about your baby's first visit. Preparing for the appointment can help reduce stress for both you and your child. It will also ensure we answer any questions you might have.
Here are some things you can do ahead of time.
Schedule the appointment for a time your child is typically awake and cooperative. Mornings are usually a great time for this, and we see patients as early as 7 a.m.
Download our new patient forms and fill them out before your appointment. This means less time in the office for you and your child.
Read books or watch videos about going to the dentist. Check out Healthy Teeth, Healthy Me, which uses your child's favorite Sesame Street characters to teach kids about dental hygiene. Resources are available in both English and Spanish.
Before the appointment, feed your child a light meal to ensure they won't be hungry when you arrive. You may also want to brush their teeth before you go.
Write down any questions or concerns you'd like the dentist to address. These could include dental milestones, questions about thumbsucking or pacifier use, or things you've noticed about your child's teeth that you're wondering about.
Perhaps most importantly, stay positive and trust your dentist! If you feel good about the visit, your child will too.
Caring for Your Baby's Teeth Between Visits
In between visits, you should continue building and reinforcing healthy dental habits with your child. This includes proper brushing and flossing.
As soon as your child has a tooth to brush, it should be brushed twice a day with a fluoride toothpaste. Just a small amount of toothpaste is all you need — roughly the size of a grain of rice for children younger than 3 years old. Flossing is just as important. Believe it or not, you should start flossing your child's teeth as soon as they have two teeth that touch.
It's also important to remind your child in between visits that the dentist is a friend! Continue to read books and watch videos about oral hygiene. Once your child is old enough, play pretend dentist and have your child "check" your teeth for cavities.
And finally, make sure you're setting a good example for your child by regularly brushing, flossing, and scheduling your own routine check-ups. 1st In Smiles makes it easy, offering high-quality dental care for the entire family! Call 972-380-8105 today to schedule an appointment, or fill out our online form.