Skip to Content
The Consequences of Avoiding Dental Care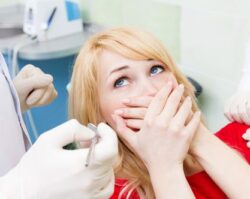 Welcome back to another blog from your friends at 1st In Smiles. Today, we would like to tell you about a patient of we knew named Sarah, her situation, and how we helped her through it. This information is important because, if you have dental anxiety, you could end up like Sarah too! Don't let dental anxiety ruin the health of your smile. Let our Plano, TX dental team help you.
What Happened to Sarah
Sarah was a middle aged woman who had not visited the dentist for nearly 20 years when she first walked into our office about a year ago. If that seems like a long time to you, you would be correct. Twenty years is an awful long time to forgo dental care. But why had Sarah not seen a dentist in so long? It was not that she was uninsured and she couldn't afford it — she had great insurance. It was because she was simply afraid.
When Sarah was in her twenties, she had a traumatic experience at a dental office. It came down to one simple fact — the experience was painful. From then on, Sarah felt anxious every time she considered a trip to the dentist. So she simply did not go for fear that it the experience would again be painful.
Because Sarah avoided the dentist for many years, she developed some problems. Sarah did take pretty good care of her teeth at home (though no one is perfect!) by brushing and flossing regularly. However, that is simply not enough to avoid all dental problems for an entire lifetime. One day, Sarah was eating breakfast and noticed that it hurt a bit on the left side of her mouth when she chewed. While that certainly was not normal, she thought the discomfort might go away in a few days. So she waited.
Well, Sarah was wrong. The pain did not subside. In fact, it got much worse. She treated it with over-the-counter pain medications and soldiered through it. She knew that she needed to go to the dentist, but she was just too afraid.
Sarah eventually had to take action — she was simply in too much pain. Unfortunately, she had waited too long and it was too late. The X-rays showed that she had an infection in her tooth and that her tooth was dying. By the time she reached our office, there was no way to save it. If Sarah had come in soon after it began hurting, we could have treated the problem with root canal therapy. Because she avoided care, she eventually had to have the tooth extracted.
Our Dental Sedation Options
Sarah's case is an unfortunate one. We never like to see a patient lose a tooth. But it doesn't have to be everyone's situation! If you experience dental anxiety like Sarah, please give us a call. We can help you stay 100 percent comfortable and relaxed with one of our sedation options. We offer three different levels (nitrous oxide, oral conscious, and IV sedation) so that you can feel at ease no matter what your current situation is. We promise that we can take care of your problem AND help you feel comfortable and relaxed at the same time.
How to Avoid Sarah's Situation
You don't have to end up like Sarah. Book your appointment today. When you call, tell our staff about your dental fears or anxiety and ask about our sedation options. We will be able to tell you more about how we can help you stay calm from the very moment you walk into our office until the moment you leave. And dental sedation is not just for extremely nervous patients either … even if you just need to take the edge off your nerves, we can help.
To book a visit, please call us at 972-380-8105 or request an appointment online. We can help you find a date and time for your appointment that works well for you. We look forward to assisting you get the dental care you need.