Skip to Content
Should You Ask Your Doctor About Sleep Apnea? [Quiz]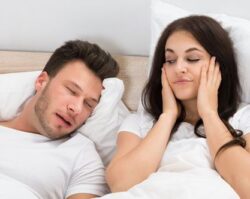 If it seems like you haven't gotten a good night's rest in a while, it's possible that sleep apnea is the reason.
Obstructive sleep apnea is a common but potentially serious sleep disorder in which a person's airway is blocked periodically throughout the night. This interrupts their sleep, potentially hundreds of times a night.
Take our quiz to find out if you may be suffering from sleep apnea. Of course, it's important to consult with a medical professional for an official diagnosis. Give 1st In Smiles in Plano, TX a call if you're worried about sleep apnea.
We'll coordinate with a sleep apnea specialist to give you an accurate diagnosis, and we offer comfortable solutions for excessive snoring and sleep apnea. Give us a call today at 972-380-8105.