Skip to Content
Revive Your Smile With Modern Dentures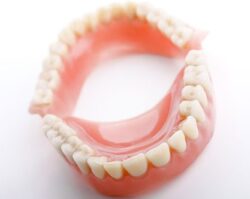 If you've suffered from extensive tooth loss, you may be embarrassed to smile. You may even avoid interacting with people out of worry that they will judge you for your missing teeth. You don't have to live with gaps in your grin and the accompanying self-consciousness. At 1st in Smiles, we offer modern dentures that are comfortable to wear and completely lifelike in appearance.
To schedule a consultation in Plano, TX, call 972-380-8105.
Avoid Dangers of Missing Teeth
Did you know that missing teeth are not only bad for the appearance of your smile, but they are bad for your oral health as well? Here are some of the potential consequences if you choose not to replace your pearly whites.
Teeth stimulate your jawbone and are essential to keeping it strong and thick. If there is a tooth missing from its socket, your jaw bone may begin to weaken and deteriorate.
The teeth in your mouth support each other. If a tooth is missing, the surrounding teeth may begin to move out of place and create a sort of domino effect of shifting teeth. This can have a serious effect on your bite.
Missing teeth can affect your ability to bite and chew. If you want to be able to eat all of your favorite foods, it's a good idea to have all teeth in place.
Your teeth help support the muscles of your face. If you are missing teeth, you may get an aging sunken appearance around the mouth.
Teeth also play an important role in speaking. If you have missing teeth, you may have noticed it's difficult to enunciate clearly.
An incomplete smile can have a profound effect on your self-esteem. Replacing teeth can boost your confidence and give you a whole new lease on life!
Explore Your Options for Modern Dentures
Modern dentures are far better and more realistic looking than the options your parents and grandparents had. They are made of better materials, use precise digital imaging and manufacturing processes, and are custom-made to fit your mouth perfectly. You can choose:
Full traditional dentures replace a full arch (upper or lower) of missing teeth. If you have any teeth left, they must be extracted in order for the denture to fit. An upper denture stays in place with the help of a gum-covered base that covers the roof of the mouth. A lower denture is horseshoe shaped so it doesn't cover the tongue.
Partial traditional dentures fill the gaps when you still have some teeth in place. They are held in place using clasps that attach to your natural teeth or to crowns.
Implant-supported dentures. At 1st in Smiles, we offer dentures attached to dental implants. These are more stable than traditional dentures — you never have to worry about them slipping or falling out — and they help keep the jawbone strong. Dr. Barfield can perform a procedure called an All-on-4, during which he attaches a full arch of replacement teeth to just four implants.
To learn more about the options for modern dentures at 1st in Smiles, call our Plano, TX office at 972-380-8105. We will be happy to discuss your case and the best way to make your smile whole again.