Skip to Content
Overcome Your Dental Phobia With Oral Sedation (Video)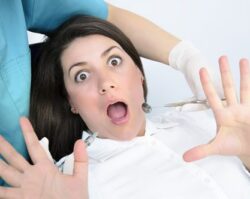 If you have dental phobia, you'll be glad to know we offer two kinds of sedation dentistry at 1st in Smiles. Both will help soothe your nerves, but oral sedation is the better choice for people with more serious cases of dental phobia.
Watch this video with Dr. Rick Barfield to hear more about our two sedation options: laughing gas, received through a small mask worn over your nose, and oral sedation in the form of a prescription pill you'll take before your treatment. Our caring staff is also happy to accommodate you with longer appointments if that will ease your anxiety.
If you're interested in overcoming your dental phobia, call 1st In Smiles at 972-380-8105 for a stress-free appointment with Dr. Barfield.