Skip to Content
Overcome Dental Anxiety for Good! [Video]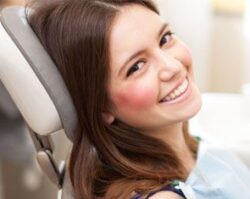 Because he'd been carrying bad memories from dental appointments during childhood with him for so many years, Tom had to keep revisiting those negative experiences every time he had to go to the dentist as an adult.
But that all changed when he discovered our compassionate, friendly team in Plano, TX!
Listen to Tom's testimonial to hear about how we were able to ease his dental anxiety to the point where he actually looks forward to coming back for his routine appointments!
Let us show you how comfortable dentistry can be! Call 1st in Smiles today at 972-380-8105 to schedule an appointment in Plano, TX.