Skip to Content
Mouthguards Help You Stay in the Game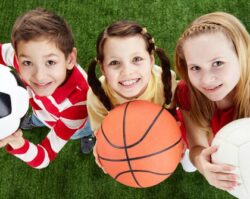 Spring is here. That means baseball and softball seasons are just getting started.
When you are getting your favorite player ready for the field, make sure he or she has a glove, a bat, a helmet, and … an athletic mouthguard?
We know that mouthguards aren't considered a standard part of baseball and softball uniforms, but maybe they should be.
According to the American Academy of Pediatric Dentistry (AAPD), kids between the ages of 7 and 12 years old are most likely to suffer dental injuries on the diamond. (For teens 13 to 17 years old, basketball players are the most likely to have dental injuries.)
The best way to protect your favorite players' smiles with a custom-fitted mouthguard, which we are happy to make for you at our office in Plano, TX. Mouthguards are just one of the ways 1st In Smiles can help your family keep smiling for years to come.
To learn more or to schedule an appointment, call 972-380-8105 now!
Numbers You Should Know
3 million — This is an estimate of how many children's teeth will be knocked out while they are playing sports this year in the United States, according to the American Dental Association (ADA).
200,000 — This is how many teeth will be saved because an athlete was wearing a protective mouthguard.
84 percent — This is how many kids do NOT wear mouthguards while they are playing or practicing sports, according to a recent survey of parents.
60 — This is how many times more likely a child is to suffer a dental injury is he or she does not wear a mouthguard during games and practices.
5 — These are the professional dental organizations that recommend wearing a custom-fitted mouthguard while playing any high-impact sports. Those organizations are the AAPD, the ADA, the Academy for Sports Dentistry, the American Association of Oral and Maxillofacial Surgeons, and the American Association of Orthodontists.
Who Should Wear a Mouthguard?
Anyone who plays a high-impact sport. So what is that?
It is any sport in which at least one of the following applies:
Athletes have physical contact with each other.
Athletes jump frequently.
Athletes often change speeds.
Athletes often change directions.
Athletes throw, bat, or try to catch flying objects, such as balls or pucks.
You probably realize that a lot of sports meet these criteria. Everything from baseball and BMX biking to gymnastics and volleyball would qualify, which is why the dental organizations mentioned above are so adamant that more athletes should be taking steps to protect their teeth and jaws when they take the field, the court, or the ice.
And as we noted above, professional dental organizations recommend wearing a custom-fitted mouthguard. The better a mouthguard fits, the more protection it provides.
Today, you have three basic options for mouthguards.
Stock mouthguards come in standard sizes. They offer some protection, but they may not fit like they should, making them uncomfortable to wear.
Boil-and-bite mouthguards offer some ability to customize them. As a result, these mouthguards also can be bulky. That poses a different problem since they can interfere with how someone breathes and speaks.
Each of our custom-fitted mouthguards is molded to fit one person. This means they offer a better fit in a smaller package. As a result, they won't affect your breathing or your ability to communicate with your teammates or coaches. And you don't have to take out these mouthguards to stay hydrated, either.
When you have comfortable mouthguard that allows you to breathe, we think it's reasonable to think that you would be more likely to wear that mouthguard as well.
Keep Smiling & Keep Playing
Getting a custom-fitted mouthguard will cost more than buying a mouthguard from the store. That's not how you should be looking at this, however.
Getting the right mouthguard greatly reduces your risk of a serious dental injury. The cost of the mouthguard should be weighed against the cost of fixing a broken tooth or replacing a tooth that has been knocked out of your son or daughter's mouth.
If it was up to us, we would much rather make a mouthguard of you today than get a call because you are having a dental emergency tomorrow.
To schedule an appointment or to learn more about our mouthguards, contact us online or call 972-380-8105.