Skip to Content
Look Great All Year With Cosmetic Smile Improvements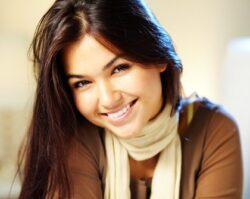 Later this month many of us will put on masks that completely alter our appearance – making us look like anything from a scary demon to a famous movie star. While it can certainly change how you feel about your appearance, the transformation obviously won't last; it just lets you try on a new look for a night or two.
With cosmetic smile improvements from 1st in Smiles, Dr. Rick Barfield can help you make a long-lasting change to your appearance. You'll enjoy renewed confidence in your smile all year long!
No matter what you'd like to change about your smile, you'll find a treatment for it at our office in Plano. Whether you want to change one small feature or remake your entire smile, we suggest starting with a consultation with Dr. Barfield. Call 972-380-8105 to schedule one. Consultations for Invisalign are free, and so are second opinions!
Here is an overview of our cosmetic treatments to help give you an idea of what is possible.
Change Many Aspects of Your Smile With Veneers
Veneers are perhaps our most versatile cosmetic smile improvements. They can sometimes provide a more affordable alternative to orthodontics by hiding a few crooked or misshapen teeth or by concealing small gaps in between your teeth. They can also be used to cover:
Deep or stubborn stains
Chips or cracks
Too-short or worn teeth
Dr. Barfield will work with you to ensure you get the size, shape, and color you want for your teeth. Dental impressions and other measurements are sent to an outside lab, where your custom restorations are made. When they arrive, Dr. Barfield will ensure they fit properly before bonding them to the front surfaces of your teeth. Depending on which kind of veneers you choose, Dr. Barfield will need to remove a bit of enamel to prepare your teeth for veneers. This may not be necessary with a special kind of ultra-thin veneers called Lumineers.
Straighten Your Smile With Invisalign
If you've always wanted a straight smile but skipped orthodontic treatment because you didn't want to wear braces, see if you're a candidate for Invisalign aligners. Invisalign consultations are free, so you have nothing to lose! Because the aligners are clear, they blend easily into your smile; most people won't even notice them. Since you can remove the aligners for meals, you won't need to worry about food getting stuck in braces or even damaging them. Removable aligners also make it easy to brush and floss your teeth.
Make Small but Significant Cosmetic Smile Improvements
Even small cosmetic smile improvements can make a big difference in how you feel about your appearance. Three such treatments are:
Teeth Whitening – You have the choice of a fast whitening treatment in our office or more gradual brightening with home whitening supplies available in two strengths.
Teeth Contouring – We can give your smile a uniform appearance by using a small sanding tool to remove small chips or to make minor alterations to the shape and/or length of your teeth.
Gum Reshaping – If you're unhappy with the look of your gums, we can also straighten an uneven gumline or remove excess tissue so your smile looks less "gummy."
Receive Free Whitening for Life
Because a white smile is one of our most popular cosmetic smile improvements, we offer a Whitening for Life program to our patients. You'll receive a tube of free bleaching gel ($50 value) to use at home with custom-made whitening trays as long as you stick to our recommended schedule of dental exams.
Replace Missing Teeth for a More Attractive Smile
Replacing missing teeth restores your smile's function, making it easier to eat and speak. It also improves your smile's appearance, giving you the confidence to smile freely. We offer many tooth replacement options. For teeth replacements that not only look natural but feel and function like natural teeth, we recommend dental implants.
You can use implants to replace any number of teeth, even an entire mouthful. If you'd rather not get implants, your choices include a traditional dental bridge (for replacing one tooth or several adjacent teeth) or dentures (for replacing many or all of your teeth).
With holiday dinners and parties coming up in just a few short months, it's a great time to think about replacing your teeth. You'll feel more comfortable greeting old friends and meeting new people with no gaps in your smile, plus you'll be able to enjoy more kinds of food.
To speak to us about cosmetic smile improvements, call 1st in Smiles at 972-380-8105.