Skip to Content
Let Us Help You Conquer Your Dental Anxiety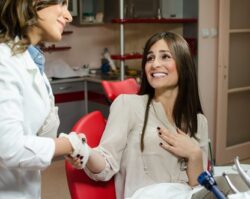 Have you ever rescheduled, or even canceled, dental appointments because the thought of seeing the dentist was just too stressful? Do you struggle not to walk out the door from fear while sitting in the dentist's waiting room? Do you have trouble breathing while getting your regular dental cleanings?
If you answered "yes" to any of these questions, you should know you are in good company. As many as 3 in 4 Americans fear the dentist to some degree for one reason or another. That's why we do everything we can at 1st In Smiles to help relieve your dental anxiety.
There are many potential causes of dental anxiety. You could have had a negative experience at a past dentist. The financial costs alone could put you on edge. Or maybe you just don't like the sounds and smells that you associate with the dentist.
No matter the situation, we can help. We even offer in-office financing options so you can get the dental care you need without worrying about the cost.
Dental Sedation Options to Put You at Ease
One way we help patients relax is with dental sedation. At our Plano, TX dental office, we understand every patient and their level of dental anxiety is unique, so we offer three different sedation options:
Nitrous oxide is a gas mixed with oxygen that you inhale through a small mask placed on your nose. In order to help our patients fully relax, we offer it free-of-charge in most cases. We will carefully control your dosage and you will remain conscious throughout your treatment but will drift into a state of mild euphoria.
Also known as "laughing gas," nitrous oxide takes effect quickly and wears off almost immediately, so you should be able to drive yourself home.
Oral sedation comes in the form of a pill that we prescribe before you arrive for your actual treatment. This way, you will be fully relaxed before you even enter our office. You will remain conscious during your procedure but it is likely you will only remember your visit as a pleasant fog.
You'll need someone to drive you to and from your visit at 1st In Smiles.
IV sedation is administered intravenously and takes effect almost instantly. We will carefully monitor and control your level of sedation and will be able to talk with you during treatment to check your comfort.
This option is great for patients suffering from severe anxiety or who need several procedures done at once because you may not remember your visit all. You'll need a ride to and from your appointment.
Cozy Office, Friendly Team of Professionals, Comfort Options
When we opened 1st In Smiles, we wanted to provide a relaxing environment from the moment our patients step inside our Plano, TX dental office. When you arrive, one of our friendly team members will greet you with a warm smile and help you get any paperwork in order.
If you have any questions or concerns, please let us know – your comfort is very important to us. Even our beautifully decorated waiting room is decked out with plush chairs and couches instead of the hard plastic you may be used to.
We also proudly offer a number of comfort options to help you relax during your visit, including:
Warm, soft blankets to keep you cozy
Soft music to help relieve stress
Semi-private operatories so you can have your own space during your visit
Flat-screen TVs equipped with DirecTV in every room so you can watch your favorite shows
Extended appointments by request so you will not feel rushed
Everyone on the team at 1st In Smiles is dedicated to making your visit as easy as possible and we are always looking for ways to improve your experience. Our office is a judgement-free zone. We are here to help you, not lecture you. That's just part of our commitment to patient-centered care.
At 1st In Smiles, we also believe in staying ahead of the curve, so we've invested in advanced dental technology and stayed up-to-date on the newest techniques through continuing education. Whether you're getting a cosmetic dentistry procedure or a restorative dentistry treatment, you'll be treated to the highest standard of dental care.
If you're ready to conquer your dental anxiety, contact 1st In Smiles today! You can stop by our conveniently located Plano, TX dental office in person, speak with a friendly team member by calling 972-380-8105, or use our online form to schedule your appointment or to ask us any questions you may have.