Skip to Content
Getting Your Kids Excited About Oral Health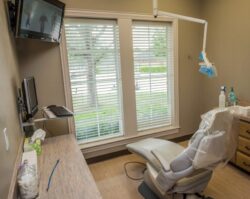 Hello and welcome to the online home of 1st In Smiles! We are your go-to place for comprehensive dental solutions in the Plano, TX area. As such, we pride ourselves on our prevention and early detection efforts that are aimed at families just like yours. Today we wanted to share some tips for getting your kids excited about maintaining excellent oral health, so that they can reap the benefits of a clean mouth, and a great-looking smile all through life. Keep reading, and then be sure to get in touch to schedule your family's next visit to see Dr. Barfield and the rest of our team!
Start at an Early Age
Even before your child has teeth to take care of, there is already dangerous oral bacteria on the loose. So, it is never too soon to instill in them the importance of caring properly for their teeth and gums.
Lead by Example
Demonstrate how you feel about it by setting a good example at home. Plus, brushing and flossing at the same time as your child is a great bonding opportunity for both of you. And you can show your child how to best get the job done. Finding an age-appropriate mouthwash is a good thing to do as well.
Involve Technology
While we don't want our kids to always be looking at a screen, sometimes it makes sense to do so. There is some cool new technology around that can help to keep your kids interested and engaged when it comes to preventive dentistry. By using one of the phone apps like "Chomper Chums," they will think that your home hygiene routine is fun!
Offer Rewards
Positive reinforcement goes a long way! Let them know when they are doing a good job by offering a reward every now and again. It doesn't have to be dental-focused, but definitely let them know that it was for doing such excellent work on their teeth and gums!
Take Them Shopping
Don't force your preferences on them. Instead, try to let your child's personality shine through. There are plenty of toothbrushes in cool kid-friendly colors and designs, and there is toothpaste available in lots of fun flavors. Take them to the drugstore and let them pick out something that speaks to their sensibilities!
Schedule Regular Visits to 1st in Smiles
You will want to let your child know that the dentist is a friend for life. After all, there is only so much you can do at home. Only the professionals will have the tools, training, and technology required to keep you on the good road in terms of oral health. We recommend scheduling a dental checkup for each member of your family at least once every six months. That way, there won't be a chance for any emerging causes for concern to go unnoticed for very long.
To book a dental checkup now, please contact our Plano, TX dental office directly. You can call 972-380-8105 or request an appointment online.