Skip to Content
Four Ways Restorative Dentistry Can Repair Your Smile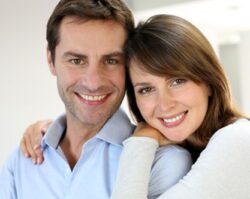 Your smile just doesn't look like it once did. Maybe you have some chipped or broken teeth. Maybe you lost a few teeth along the way. Maybe you've lost all of them.
No matter, you may be able to reclaim your smile (and more) with restorative dentistry at 1st In Smiles. We can fix individual teeth, and we can provide replacements for every tooth in your mouth.
Dr. Rick Barfield, our dentist in Plano, TX, has been serving patients for more than 30 years. No matter what your problem may be, he's probably seen it and treated it before.
To get started, call 972-380-8105 or contact us online to schedule a consultation. Together, we can give you a new reason to smile.
Below, you will find four of the ways we can restore the function of your teeth and the appearance of your smile. You may just see one that will work for you.
1. Fix Your Cavities.
Tooth decay affects most people at some point in their lives. The National Institutes of Health reported that approximately 93 percent of American adults will have at least one cavity.
That means there is a good chance you will need a dental filling at some point as well. At 1st In Smiles, we take advantage of the advances in dentistry such as tooth-colored fillings.
Unlike metal (amalgam) fillings, our tooth-colored fillings will blend in with your smile. You have to call attention to your cavity just because you had one.
It's important to note that dental fillings are not permanent fixes. They wear out. They chip. They crack. Over time they will need to be replaced regardless of the material used.
If you have a metal filling, now can replace it with one of our tooth-colored fillings. This way you can get the functional benefits of a dental filling along with a cosmetic improvement to your smile.
Call 972-380-8105 to get a filling at our dentist office if you live in or near Plano, TX.
2. Repair a Broken Tooth.
Broken teeth happen. They may be the result of a trauma to the face like an accidental elbow during a basketball game, a fall, or a collision with a wall or a ball.
You can also break a tooth while eating. Biting down on something that was unexpectedly hard — such as a popcorn kernel, a nut, or a piece of candy — can cause you to lose a part of your tooth.
The ceramic material used to make modern dental crown allow you to get one that looks like one of your real teeth. To prepare your tooth for a dental crown, we reshape the healthy parts that remain. By doing this, we are able to preserve most of the healthy tooth and create a support for your dental crown.
After your permanent crown is bonded in place, you will be able to bite and chew just like you could with your natural tooth.
Contact 1st In Smile if you would like to learn more.
3. Replace a Missing Tooth or Missing Teeth.
Losing a tooth can make many people self-conscious about their smiles. It doesn't matter if they lose a tooth or teeth due to untreated tooth decay, gum disease, or an injury.
With the development of dental implants, we now have a way to replace the roots of your missing teeth. And that means we can replace the entire tooth, not just the natural crowns.
The number of dental implants you need can vary depending on how many teeth need to be replaced and the location of your missing teeth. Our dentist will be happy to help you figure out the right solution to fill in the gaps in your smile at our Plano, TX, office.
4. Replace an Entire Row of Teeth.
Last, but not least, we can replace one or both rows of teeth in your mouth. The most stable and secure way to do this is with implant-supported dentures.
If you have dentures or know someone who does, then you are familiar with how loose they can be, especially when trying to eat. This may limit what foods you eat as well as how you eat it.
With a series of dental implants (such as with the All-on-4® procedure), you create a foundation to support your dentures. This will hold your dentures in place and allow you to put more force into every bite and chew.
That will make eating more comfortable, and as many people have told us, more enjoyable, too.
Call With Your Questions
If you are interested in learning more about the ways restorative dentistry could help you, then we invite you to schedule a consultation at 1st In Smiles.
You can reach us online, or you can call 972-380-8105 to make your appointment.