Skip to Content
Excellent Dental Care for the Entire Family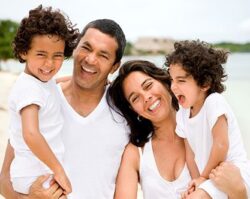 It's around this time of year that you're spending lots of time with your family members. You're sharing meals. You're shopping for the perfect present to give them this holiday season.
The holiday season is also a great time to make sure those that you love most are receiving excellent family dental care!
At 1st In Smiles, we make it easy to keep your teeth and gums healthy at every stage of life. Dr. Barfield is known for his compassionate care and his expertise across branches of dentistry. Whether you need a routine cleaning or a more involved dental procedure, you'll feel comfortable in his care!
Read on to learn more about how our Plano, TX office can provide high-quality dental care — whether you're 2 years old or 92 years old! Then, give us a call at 972-380-8105 to schedule an appointment.
Your Child's First Visit
Your little one's first experience at the dentist's office can shape their attitude about dental care for years to come! That's why the team at 1st In Smiles takes great care to make sure your child's first visit is a positive experience. That's why we call it a "Happy Visit!"
During your child's "Happy Visit," our main goal is to help your child become acquainted with Dr. Barfield and our staff, as well as the process of a checkup and the equipment we use. We want to establish a great relationship from the very beginning.
If your child is comfortable, we'll proceed with a full exam and cleaning. But if your child is frightened or anxious, that's OK! We'll aim to perform a complete checkup at the next appointment.
Plus, this visit has perks for the parents too! Your child's "Happy Visit" is free! You'll only pay for any treatments your child receives.
Dental Care Through Childhood
After your child's initial appointment at 1st In Smiles, we'll be able to make sure their teeth continue to be healthy as they develop! Preventative care is especially important as a child's permanent teeth come in. You should bring your child in for a cleaning and checkup once every six months.
We also offer fluoride treatments and sealants, which protect teeth from decay. The American Dental Association describes sealants as a "raincoat" for your teeth. It's a plastic coating that's painted onto your teeth that, once dried, makes them more resistant to bacteria that cause cavities.
In fact, studies have shown that the decrease a child's risk of tooth decay by 80 percent!
Sealants are often applied after a child's first and second molars erupt, which usually happens around 6-years-old and 12-years-old, respectively. That way, you're protecting your child's permanent teeth — ones heavily used for chewing — as soon as they come in.
Orthodontics Care
When it comes to caring for your child's teeth during their teenage years, you might be interested in orthodontics so they enjoy straight teeth into adulthood. Or, perhaps you decide that you want a straighter smile for yourself as an adult!
At 1st In Smiles, we're proud to offer Invisalign®, a virtually invisible way to correct teeth and bite misalignment issues! The Invisalign system is comprised of a series of plastic trays, or aligners, that are custom-made to fit snugly around your teeth. You'll wear one of these aligners for roughly 20 to 22 hours a day. Then, you'll swap it out every week or so for the next aligner in the series. This facilitates incremental changes in the position of your teeth, with the average course of treatment lasting just 12 months!
Invisalign costs about the same as traditional braces, and both are effective in treating mild to complex cases of misalignment. But the similarities end there! Invisalign is so discreet that when you're wearing your aligners, your friends and co-workers may not even realize you're undergoing orthodontic treatment.
Plus, you won't have to worry about Invisalign slowing down your busy lifestyle. It's completely removable, so there are no dietary restrictions as there are with traditional braces. Plus, there are no burdensome wires and brackets that create a hazard while enjoying your favorite sport or leisure activity.
Wisdom Teeth Removal in Your Child's Early 20s
Getting your third molars, or wisdom teeth, removed is almost a rite of passage into adulthood. And At 1st In Smiles, we're able to do extract these often problematic teeth right here in our Plano, TX office.
The procedure usually takes less than an hour. And to ensure your child's comfort, we apply a numbing agent and can offer three forms of dental sedation to minimize pain and stress!
High-Quality Care at Every Stage of Life
1st In Smiles makes it easy to get nearly all the dental care you need under one roof. Whether you're considering a cosmetic dentistry procedure for your 40th birthday, or you need a dental restoration later in life, Dr. Barfield prides himself on providing high-quality care.
So, if you're in the market for a family dentist, consider 1st In Smiles. Give us a call today at 972-380-8105 to schedule an appointment. You can also use our convenient online form.