Skip to Content
Do I Need a Night Guard? (Quiz)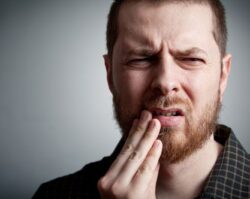 When it comes to dangerous behavior that happens during sleep, it's hard to top this story of a British woman who has both ridden a motorbike and driven a car while sleeping. However, you may damage your teeth if you grind your teeth and/or clench your jaw in your sleep. Like this woman, you likely aren't even aware of these problematic behaviors.
Fortunately, it's an easy and relatively inexpensive fix. Dr. Barfield can fit you for a custom-made night guard that will prevent your upper and lower teeth from making contact while you sleep. So how do you know if you need a night guard? Take our quiz to see if you have any indicators of clenching and/or grinding.
If you do, call 1st in Smiles today at 972-380-8105 to schedule an appointment in Plano, TX.
Loading Do You Need a Night Guard?