Skip to Content
Comparing Tooth Replacement Options? Look at the Numbers!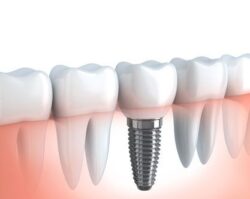 As a dedicated Plano TX dentist, I have spent years placing dental implants and helping patients struggling with missing teeth. It's gratifying to help people overcome their problems, especially when they are struggling to eat the food they love or if they feel self-conscious about themselves.
We humans have been dealing with missing teeth forever. And it's still a major problem. Right now, there are about 35 million people in this country have no remaining teeth on one or both arches.
There is nothing is as good as your natural teeth. Your teeth are durable, strong, and the enamel — the outer layer of the tooth — is the strongest substance in the entire body. So how do tooth replacement options measure up? What are your options? Here's a look at different tooth replacement options, including dentures and dental implants.
Tooth Replacement by the Numbers
Removable dentures are only 25 to 50 percent as good as natural teeth. This is because removable dentures are not fixed into the bone. The dentures can slide around, which makes it difficult to find stability while eating. Many patients with removable dentures struggle to eat crunchy foods, tough meats, or even healthy vegetables.
Dental implants are 90 percent as good as natural teeth. Dental implants provide the power you need to eat the food you love. The reason is because the implants are secured into the bone. Dental implants are made from titanium, which is biocompatible, and merges with the jawbone through the process of osseointegration.
4 implants can change your life — We need just four dental implants placed around the arch to secure permanent teeth! All-on-4 dental implants are a revolutionary new tool used as an alternative to removable dentures. The method is easy to understand. We place four dental implants on each arch and then restore the implants with natural-looking, lifelike permanent teeth. What's so great about All-on-4 dental implants is that the upper replacement teeth leave the arch open, allowing you to experience more tastes and sensations.
When you restore your mouth with All-on-4 dental implant, everything is back on the menu. You no longer have to worry about your dentures flying out of the mouth. You can eat what you want whenever you want.
98 % success rate — Placing a dental implant must be risky, right? It's actually one of the most successful treatments in all of dentistry. About 98 percent of all implants placed are a success. That's a major success rate. This is so successful because we use technology to find the most appropriate location for your implant.
You can live 10 years longer — You know that dental implants are the strongest tooth replacement option available in dentistry. It's like we slipped a root under the gums and restored it with a brand-new tooth. They nearly match the power of your natural teeth, and that's extremely important. Dentists and researchers estimate that living without teeth can shave about 10 years off of your life! The reason it that not having teeth make it impossible to get the nutrition you need. So, if you do not have teeth or have dentures, healthy foods like fruits and vegetables and nuts are generally off the table.
Dental implants can improve aesthetics and function. You also don't have to worry about your teeth flying out of your mouth ever again. 1st in Smiles is a leader in providing quality dental implants because we want to see our community thrive when it comes to oral health.
If you are struggling with bad teeth, bad dentures, or missing teeth, contact us today at 972-380-8105 to book a consultation.
We are happy to give you detailed treatment options during your first visit!