Skip to Content
Change Your Smile & Rebuild Your Confidence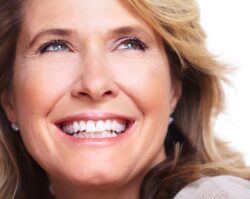 Our younger readers may not recall this, but there was once a prime-time television show that featured (mostly harmless) pranks. The show's catchphrase was, "Smile! You're on Candid Camera."
It was all in good fun but probably seems a bit quaint in today's age of social media, when you picture could be taken anytime and shared online. In other words, you too could be asked to "Smile!" at any moment.
When you are, what do you do? Do you flash your pearly whites? Or, do you keep your lips firmly pressed together so no one can see your teeth?
If it's the latter, 1st In Smiles may be able to give you a reason to smile. With a full set of veneers, you can feel confident smiling from ear to ear.
Call 972-380-8105 to schedule a consultation with Dr. Rick Barfield, our dentist here in Plano, TX. Find out what dental veneers or one of our other cosmetic services could do for you!
What Are Veneers?
In dentistry, veneers are made of porcelain. They are custom-made for each patient.
Veneers are bonded to the front of your teeth, sort of like how fake fingernails can be glued to your fingers — if those fake nails could last for decades at a time.
With veneers who you can transform your smile, and with proper care, you can keep your new and improved smile for 20 years or more.
At 1st In Smiles, we use Lumineers veneers. These are the thinnest veneers available today. That's important because they require less prep work than traditional veneers.
With most porcelain veneers, dentists have to remove some of your enamel from the front of your teeth. This is so the thickness of the veneers doesn't alter your profile.
Lumineers are approximately 0.2 mm wide. As a result, it is rarely necessary to remove any enamel to prepare your teeth for your Lumineers veneers.
What Can Lumineers Veneers Do for You?
Lumineers can correct the same issues that other veneers can fix. The difference is that they can often be placed more easily since little or no enamel removal is required.
So, what are the reasons you might want veneers?
One of the most common reasons people get veneers is to restore their white, bright smiles. As everyone gets older, it's normal for our teeth to look yellower or darker. This is a natural result of eating and drinking. Almost every food or beverage you put in your mouth will add a little something to those stains. It's also possible to have discolored teeth as a result of trauma to one or more teeth, illnesses, and certain medications.
By getting veneers, your teeth can look as white or whiter than they ever have. Veneers also are more resistant to staining than natural teeth, which can help you preserve your bright smile longer.
Another reason many people get veneers is to give them themselves the appearance of straighter teeth. To be honest, you may be better off with a treatment like Invisalign depending on the severity of your alignment issues. With that in mind, many people with mildly crooked or crowded teeth can correct those flaws faster with veneers.
Likewise, you can close gaps between your teeth with a set of dental veneers.
You can also fix normal wear and tear issues, such as repairing chipped teeth, with a set of Lumineers. If your teeth look small or have lost a little something over the years, you can build them up with veneers.
And it's worth mentioning that our Lumineers veneers can correct multiple issues at the same time. When you want whiter and straight teeth or you want to close gaps and fix a chipped tooth, you can do it all in one fell swoop with Lumineers.
Feel Confident About Your Smile
It's amazing to see the transformations that occur when our patients get dental veneers — and we aren't talking about their teeth.
Yes, veneers can give you a more attractive smile, but they may give you something more important. We've watched many patients who felt embarrassed by their teeth walk into our Plano, TX dentist office. We've also seen how nicer smiles improved their self-confidence and let their personalities shine.
We want you to have the inner confidence as well. Veneers might just be what you need.
If you would like to learn more or to request a consultation with Dr. Barfield, contact 1st In Smiles online or call 972-380-8105.