Skip to Content
Celebrate National Toothbrush Day With Fun Toothbrush Facts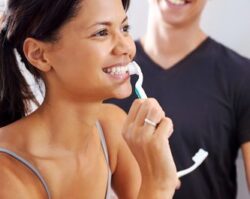 Sure, most people make a big deal out of holidays like Christmas and Thanksgiving. Here at 1st in Smiles, we get pretty excited about National Toothbrush Day, celebrated on June 26. To celebrate, we've highlighted some fun toothbrush facts for you. We've also recommended some brushes that have high-tech features that can help you improve your oral hygiene.
We're not the only ones to recognize the significance of the toothbrush. Americans surveyed by the Massachusetts Institute of Technology selected it as the top invention they couldn't live without. We think the toothbrush has come a long way since its early origins in 3000 BC, when ancient Egyptians used twigs and leaves they called "chew sticks" to keep their teeth clean.
We're happy to talk toothbrushes and oral hygiene with you any time, not just on special occasions. Call 1st in Smiles at 972-380-8105 if you have any oral hygiene questions or need to schedule an appointment.
Toothbrush Facts: Early History of the Toothbrush and Significant Milestones
While folks like the Egyptians used different materials to keep their teeth clean, the Chinese were the ones to introduce the idea of bristles. In 1498 they began attaching hog hair bristles to handles made of bone or bamboo. British entrepreneur William Addis created a toothbrush in 1780, fashioning it from an animal bone and bristles, then began mass producing it in 1840. His company remained in his family until 1996 and still does business today as Wisdom Toothbrushes.
More Toothbrush Facts: Nylon Bristles and Electricity
Nylon bristles were introduced by Dupont de Nemours in 1938. DuPont today still makes bristles for brushes of all kinds, including toothbrushes. Swiss doctor Philippe Guy Woog invented an electric toothbrush that plugged into a wall outlet in 1954, but electric toothbrushes weren't sold in the U.S. until the 1960s.
From Twigs to Titanium, the Toothbrush Has Come a Long Way
While the toothbrush had humble beginnings, you can now buy some pretty fancy brushes. The most costly toothbrush is sold by a company called Reinast. It has a solid titanium handle and costs $4,000. That brush is out of reach financially for most of us. That said, you can buy some pretty great electric toothbrushes for about $200. They don't have titanium handles but they do have high-tech features that help you improve your oral hygiene.
Up Your Brushing Game With High-Tech Features
An increasing number of electric toothbrushes use digital technology and other features to help you improve your oral hygiene. Some of our favorite features include:
Instructional Apps – Some brushes can be used in conjunction with apps that help you improve many aspects of your tooth care, from the angle of the brush to the amount of pressure used. There are even apps and brushes designed especially for young children, like the Sonicare for Kids toothbrush.
Smart Timers – Timers will let you know when you need to move to a new section of your mouth while brushing and will ensure you brush long enough. That's important because an Academy of General Dentistry study found that the average person spends only 45-70 seconds brushing. Like most dentists, we recommend brushing for at least two minutes.
Pressure Sensors – Overly aggressive brushing can damage your tooth enamel and your gums. That's why we like the sensors that alert you when you're brushing too hard, usually with a flashing light and/or vibrating handle.
Two toothbrushes that have lots of high-tech features and lots of positive reviews on Amazon are the Philips Sonicare DiamondClean and the Oral-B Genius Pro 8000. They also have many different brush heads and easy-to-find replacements.
We recommend always using soft bristles, and replacing the head every three or four months, or even sooner if notice the bristles look frayed. Replacing the head is quite easy these days, with automatic replacement plans for both brands mentioned above available through Amazon. In addition, there are now several specialty toothbrush subscription plans, similar to Dollar Shave Club. Two to check out are Brusher Club, and Toothbrush Hub.
Remember to See Us for Professional Cleanings
If you use your toothbrush at least twice a day, for two minutes each time, your teeth should be in pretty great shape. Still, it's also important to visit us for professional dental cleanings. No matter how carefullly you brush and floss at home, you'll miss some plaque that can end up causing cavities. We recommend a cleaning every six months. To give you an added incentive to see us for regular cleanings and exams, you'll receive free professional-strength whitening gel.
To schedule your next cleaning and exam, call us today at 972-380-8105. If you want to hear more toothbrush facts, let us know!