Skip to Content
6 Ways to Get Your Child Involved With Their Dental Health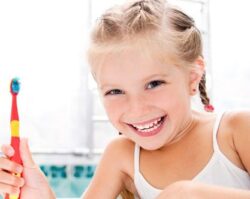 Welcome back to another blog from your friends at 1st In Smiles, located in Plano, TX. Today, we would like to talk to you about getting your child involved with their dental health! We all know how important great dental habits are … help your child build them from an early age. If you have any questions or concerns (or need further advice), please give us a call. We would be happy to help you get the information you need to get your child's dental health on track!
Tip #1: Start Young
Dental care is important. One of the best ways to get your children to understand this is to start stressing it to them as early as possible. In fact, as soon as your children have teeth to take care of, they should be taking an active roll in their dental health! By instilling the ideas of great oral health and good home hygiene habits in their head while they are young, you are setting them up for success for the rest of their live.
But don't worry … if your child is older and still does not understand the importance of brushing and flossing your teeth every day, it is not too late! By following from of the other advice below, you can get your child back on track to a beautiful, healthy smile for many years to come!
Tip #2: Be a Great Role Model
Are you being an excellent role model for your kids? They are watching you! By making sure you are doing the best you can to SHOW your kids what great oral health looks like, you are letting them know how important it is. We also recommend actually brushing your teeth WITH your child. This is a great bonding and learning opportunity for both of you. Most importantly, you can show your child how to best reach all areas of their mouth to get it nice and clean.
Tip #3: Use These Cool Apps
Does your child need entertainment while brushing? Fortunately, new technology is available to help keep your kids interested. By using one of these cool phone apps (available for Android and for iPhone), you can grab your child's interest and hang onto it long enough to get those teeth brushed! Check out:
Brush DJ
Disney Magic Timer
Aquafresh Brush Time
Chomper Chums
Tip #4: Reward Good Behavior
Is your child doing a good job with brushing their teeth every night? Maybe they deserve a reward! Letting your child stay up an extra 30 minutes for doing a good job (or something similar) can help them understand that good dental habits lead to good things. While we are not suggesting that you bribe your child, it is a good idea to make sure they know when they are on track!
Tip #5: Let Them Choose Their Products
Did you know that there are LOTS of cool kid-centered dental health care products out there? One of the easiest ways to get your child interested in dental health is to let them choose their own products! This might mean letting them choose between a few different options that you picked up at the drugstore, or even taking them with you to help you choose. There are lots of toothbrushes in cool colors and designs and tooth paste in fun flavors. Have fun with it!
Tip #6: Schedule Dental Checkups
The best way to make sure your child's dental health is on point? Regular dental checkups. We recommend scheduling a dental visit for each member of your family at least once every six months. This lets us keep an eye on things and ensure that no problems pop up. And if something does pop up, we can solve the problem while it is still small and simple to fix! Help your family stay healthy by getting them into our office twice a year.
To book an appointment, please contact our Plano, TX dental office directly. You can call 972-380-8105 or request an appointment online. Either way, we would be delighted to help you. We look forward to helping your family maintain beautiful, healthy smiles for a lifetime!