Skip to Content
5 Cosmetic Services to Improve Your Smile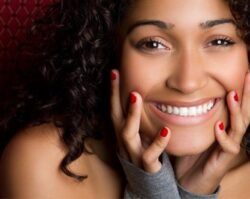 Welcome back to another blog by 1st In Smiles! Today, we want to remind you about five amazing cosmetic options that YOU can use to improve your smile! We understand how a sad smile can make you feel — self-conscious, vulnerable, simply not attractive — and we can help! Each of these cosmetic options are designed with you in mind. We want to help you achieve amazing, beautiful results that you will love!
Feeling great about your smile is a key component of feeling fantastic about yourself! Allow the experienced dental team at 1st In Smiles to help you achieve your ideal appearance. Please feel free to contact us if you have any questions or concerns about our services. We would be happy to help you.
Option #1: Dental Veneers
Dental veneers are thin pieces of tooth-colored material that are designed to essentially replace the surface of your tooth.Hollywood celebrities have been using this cosmetic service to achieve perfect smiles for years … now, because we offer them here in our Plano, TX dental office, you can have a perfect smile too! Talk to our team to determine if veneers are right for you!
Option #2: Invisalign Clear Aligners
Have you considered orthodontic treatment, but do not want to commit to traditional braces? Here at 1st In Smiles, we offer Invisalign clear aligners, an alternative that will help you get the beautiful, straight smile you have always wanted. Invisalign aligners are comfortable, convenient, and of course, invisible! They also work faster than traditional braces, usually producing great results in about 12 months … that's half the time it usually takes traditional braces (2 or 3 years). Invisalign is a great option for someone who wants comfortable, discreet orthodontic care!
Option #3: Teeth Whitening
Here at 1st In Smiles, we offer professional whitening services that can help you reach your desired level of brightness and whiteness! If you want to make your smile shine, we can help! Our team offers both in-office and at-home professional whitening solutions. Ditch the drugstore brands for products that actually work!
If you have been struggling with over-the-counter options at home and haven't been achieve the results you desire, now is the time to invest in professional whitening. Our whitening services are one of the most simple options we offer and it can pack a huge punch! Please contact our team to determine which of our whitening options is best for you.
Option #4: Gum Reshaping
Do you have an overly gummy smile? Our team offer gum reshaping services that can help you get a more attractive, balanced smile. We know that having an overly gummy smile can be embarrassing or make you feel bad about your appearance in general. We can gently reshape your gum line to help you feel better about the way you look!
Option #5: Teeth Contouring
Do you have teeth that are longer than others? Do you have teeth that are slightly misshapen? Do you long for a balanced, beautiful smile? We can offer you teeth contouring! Teeth contouring can be used to gently remove small layers of enamel from the ends of your teeth in order to balance the appearance of your smile. If you want a more smooth, polished finished instead of the jagged or uneven situation you have now, this could be a great option for you.
Schedule Your Consultation
Are you ready to achieve a beautiful smile that you can be proud of? Our amazing cosmetic solution can help you achieve your smile goals! Whether you are interested dental veneers, Invisalign clear braces, professional teeth whitening, gum reshaping therapy, or teeth contouring, we can help you. To schedule a cosmetic consultation, please call our Plano, TX dental office at 972-380-8105. You can also request an appointment by using our online contact form. We would gladly work you into our schedule at a date and time that is convenient for you.
Don't let an unsightly smile hold you back to living the life you want to live. We look forward to working with you to help you achieve the smile of your dreams.